I've told you a few months ago about Houzz, the mobile app that allows you to find ideas and inspirations in terms of interior design.
At mygeeksuit's home works have continued and in the picture the final result: a white dresser customized with graphic patterns in black and white except a single red element.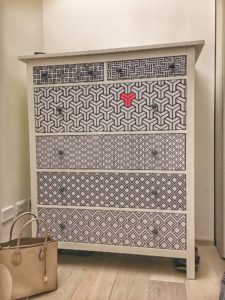 Starting from the white chest of drawers Hemnes by Ikea, we purchased the graphic patterns on Shutterstock and sized them thanks to Inkscape.
Once we get the file we had print them in high definition and … from here there was very little technology: only great patience in using glue and protective paint for decoupage at the end!
But the result is amazing, do you agree?
In this article